Hello everyone, welcome to this article on Google cloud platform website hosting, and let's understand what Google cloud platform offers when it comes to your web hosting requirements.
We will learn Some basics about Google cloud web hosting. What is GCP, and why go for it different types of web hosting. When you talk about cloud web hosting, google cloud has the feature of hosting secure and reliable websites easily.
It ensures customers and site protection. Website hosted on a fast and reliable network, and you can do more work for less price with Google cloud.
What is Cloud Computing?
First of all, it is always good to know some basics of cloud computing.When we talk about cloud computing, it uses the resources provided by your cloud service provider, such as Google Cloud.And cloud computing means using hardware and software components to deliver a service on a network.
Here users can access files applications from any device that can access the Internet.When we talk about cloud computing, it uses services hosted on the infrastructure managed by the cloud provider.
When we talk about resources that we can use.
that may include big data services, storage options, computing options, networking options, and various other various services that a cloud provider offers.
Cloud computing has various service models such as you have platform-as-a-service, software-as-a-service, infrastructure as a service.
These days, we talk about containers as a service, and these are your different computing service models that cloud service providers are offering. which allow you to form automatic integration with your existing environment or if you would want to benefit from modernization by using the cloud providers infrastructure.
You have various services offered; some are for auto software integration or migration, backing up and restoring data, scaling your storage capacity for an unlimited storage capacity. and using a resource provided by the cloud service provider benefiting from reliability cost-efficiency, which a cloud provider offers. In this case, Google cloud is the best.
When we talk about web hosting service providers, There are various web hosting service providers, such as AWS, Squarespace, IBM cloud, GoDaddy, Bluehost, and Google cloud.
What is Cloud Web Hosting?
When a group of Servers works together, this is called Cloud. Currently, cloud hosting is spreading rapidly in the market. The performance of cloud hosting is amazing. And that's why more and more people are using Cloud Hosting today.
In Cloud Hosting, a lot of Servers work for only one Blog / Website simultaneously. Because of which Cloud Hosting provides us the Best Service. Cloud Hosting also keeps your site secure.
This can also be controlled by websites with high traffic very easily, and speed does not decrease even when there is more traffic.
Read also : How to Find The Best Web Hosting
What is Google Cloud Platform for web hosting?
As we call it a Google cloud platform, GCP is a set of cloud computing services provided by Google.That runs on the same infrastructure that Google uses for its end-user products like YouTube, Gmail, and much more.
When we talk about GCP, there are various reasons why anyone would choose it for their use cases.
Let's look at some reasons:
When you talk about pricing, Google cloud hosting cost is better than its competitors.

At the point when you talk about speed and performance, it's speedy and increases the performance of your website.

When you talk about live migration of apps, this is one of the features that organizations usually like, which none of the other competitors are offering.

Google cloud platform offers high productivity because you are using the resources based on the same infrastructure that Google uses for its own.

You can work from anywhere provided you have an internet connection, and you can connect to the cloud platform and use various services offered via the web.
Types of Web Hosting on Google Cloud
Google cloud offers Three types of web hosting.
WordPress; It is a free and open-source content management system you might have used in the past or have heard about WordPress, where many websites are being created. It is a popular web publishing platform to set up blogs and websites quickly and thus be used by organizations or even individual users for having their blogs or running their websites, or promoting their products.

Lamp, which stands for Linux Apache MySQL and PHP, and lamp stack consists of Linux Apache HTTP server. MySQL and PHP are used to host websites and web applications.

You also have the option of building your own website to develop a website or web application with your own code directly on the compute engine.
How Much Does Google Cloud Hosting Cost?
Google Cloud Hosting prices depending on how much monthly Data you use, where your server is located, and where the Data is going; there are different prices.
for example, if your server is located anywhere within the Americas, Europe or east Asia, your first terabyte(0-1 TB) of data that goes anywhere in the world except Australia and China is charged at a rate of $0.12 per gigabyte.
The next nine terabytes(1-10 TB) are charged at $0.11 per gigabyte, and anything over ten terabytes(10+ TB) is charged at $0.8 per gigabyte.
For some regions, these prices are essentially doubled for data that leaves your server and goes to China and slightly less for traffic to Australia.
In addition to this, you'll see different rates for northeast Asia, southeast Asia, and Australia. Pricing generally starts around $0.12 per gigabyte for servers located in the USA.
The average size of a web page is approximately 1.4 megabytes, according to the http archive. That means if your website sees 10,000 page views per month, you'll end up being billed for 14 gigabytes of data which is $1.68 per month coming out of your pocket.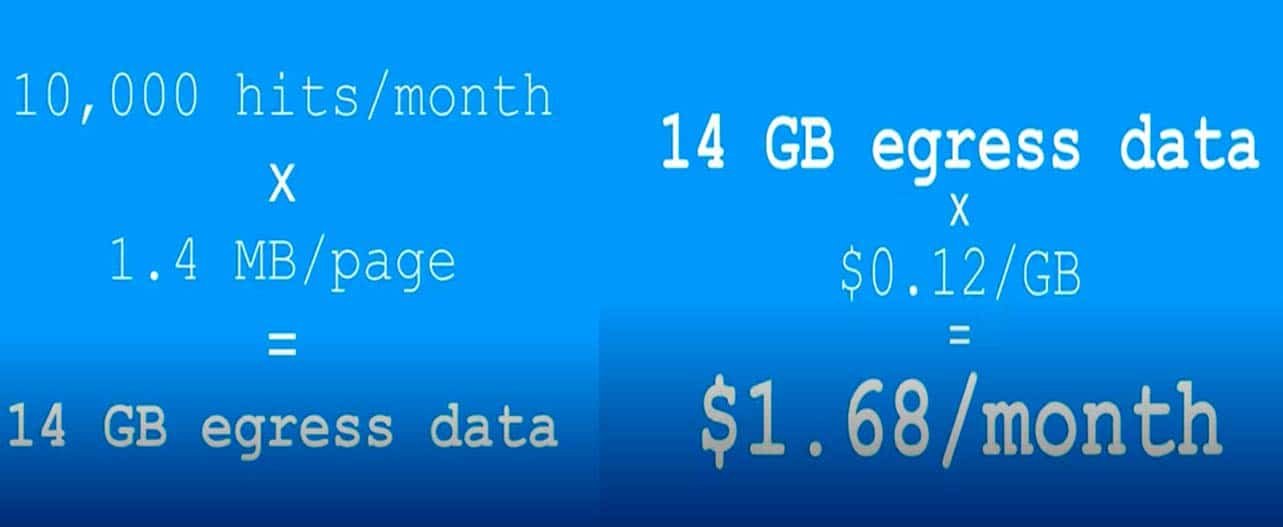 Of course, assume that your traffic originates from outside Australia and China.
If your website gets one million page views per month, you'll pay $164  for egress data. $120 for the first terabyte(1 TB) and $44  for the next 400 gigabytes(400 GB).

Keep in mind that this is pricing just for outgoing network traffic; in situations where you are not taking advantage of the free tier, websites will typically have to pay hosting fees on top of this.
So the google cloud platform is one of the most premium hosting infrastructures available today, and this does not come without a cost.
Conclusion
If you have found our article helpful, then definitely share it with your friends. And if you have any problem irrespective of cloud hosting, you can ask in the comment without any hesitance.